In 2022, Amazon's total net sales surpassed the half-trillion-dollar mark, becoming the second US company after Walmart to reach that milestone. The company's total global sales amounted to $514 billion in 2022. We reviewed Amazon's 2022 results to learn more. Some notes:
Amazon's total net sales growth rate slowed to 9% year over year (YoY) in 2022, down from 22% YoY in 2021 and 38% YoY in 2020.
Its operating income nearly halved in 2022, reaching $12 billion, with the operating profit margin declining from 5% in 2021 to 2% in 2022 (please look below for the Amazon profits analysis graphic).
Amazon generated a $3 billion income tax benefit in 2022, compared to a provision for income taxes in 2021. This tax benefit was primarily due to a decrease in pretax income and an increase in foreign income deductions.
All told, the company reported a net loss of $3 billion in 2022, with a net profit margin of -1%.
To understand the drivers behind Amazon's sales and profits performance, we analyzed the company's sales and profits by product groups, countries, and business segments. Following are the top 10 insights from our analysis.
Service sales continue to drive growth. Service sales include third-party seller fees, Amazon Web Services (AWS) sales, and sales from advertising and subscription services. By contrast, product sales include revenue from the sale of products, related shipping fees, and digital media content. The share of service sales in Amazon's total net sales increased to 53% in 2022, compared to 47% for product sales. By contrast, in 2012, the share of service sales was just 15%. In the past two years alone, service sales increased by $101 billion while product sales increased by $27 billion (again, please see the Amazon sales analysis graphic below).
Online store sales growth slows down. Amazon generated $220 billion from online store sales in 2022, with a negative growth rate of -1% YoY. The share of online store sales in total net sales declined from 51% in 2020 to 43% in 2022. The online stores offer a wide selection of consumable and durable goods, as well as media products in both physical and digital formats, such as books, videos, games, music, and software. Sales to customers who order goods online for delivery or pickup at physical stores are also included.
Physical store sales remain a small portion of total net sales. In 2022, Amazon generated $19 billion from physical store sales, representing 4% of total net sales. Physical store sales include revenue from customers who physically select items in a store.
Third-party seller services continue to grow. Amazon generated $118 billion from third-party seller services in 2022, with growth continuing in the double digits. The share of third-party seller services in total net sales increased to 23% in 2022, up from 21% in 2020. The third-party seller services include commissions, related fulfillment and shipping fees, and other third-party seller services.
Subscription services grow in double digits. Amazon generated $35 billion from subscriptions services in 2022. Subscription services include annual and monthly fees from Amazon Prime memberships, as well as fees from digital video, audiobook, digital music, e-book, and other non-AWS subscription services.
Advertising services continue to grow in the high double digits. Amazon generated $38 billion from advertising services in 2022, nearly double the revenue from two years earlier. Advertising services include sales of advertising services to sellers, vendors, publishers, authors, and others, through programs such as sponsored ads, display, and video advertising.
"Other" sales remain a small portion of total sales. Amazon's "other" sales, related to various offerings such as licensing and distribution of video content and shipping services, as well as co-branded credit card agreements, grew 95% YoY in 2022. These still make up less than 1% of total sales, however.
The US drives sales growth. Amazon generated $356 billion in sales from the US in 2022, and the share of the US in total net sales increased to 69%. Amazon US sales grew by $93 billion between 2020 ($264 billion) and 2022 ($356 billion). Non-US sales grew by a total of $35 billion during the same period. Amazon's operations in Germany and the UK reported negative growth in 2022. Country-specific sales include sales from country-focused online and physical stores or, for AWS purposes, from the selling entity.
North American and international segments had negative operating income. The North America segment, consisting of retail through North America-focused online and physical stores, is the company's largest segment, with a 62% share of total net sales. It continued to grow in double digits in 2022. The share of the international segment, consisting primarily of retail sales through focused online stores (i.e., outside North America), declined from 27% in 2021 to 23% in 2022. International segment sales decreased by -8% YoY in 2022, primarily due to changes in foreign currency exchange rates. Both the North American and international segments had negative operating margins in 2022.
AWS is the fastest growing and most profitable segment. In 2022, Amazon generated $80 billion in revenue from AWS services. AWS services continued to grow in the high double digits. Additionally, its share of total net sales continues to increase, rising from 12% in 2020 to 16% in 2022. With an operating profit margin of 29%, AWS is also the company's most profitable segment. The AWS segment includes sales of compute, storage, database, and other services for startups, enterprises, government agencies, and academic institutions.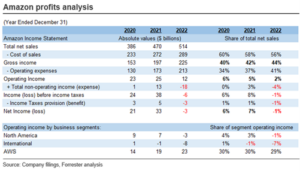 If you are a Forrester client, please also see our 2022 Retail Competition Tracker, US and 2022 Online Marketplace Tracker, Global to learn how Amazon compares to other US retailers and global marketplaces.